A fun version of one of the most famous Italian recipes - These easy vegetarian Italian lasagna cups are ready in less than 30 minutes and perfect for a party!
These Italian lasagna cups are definitely my kind of party food. A tiny individual version of one of my favourite Italian recipes, these cuties are ready in just 20 minutes from start to finish, and require super simple ingredients.
*This post is sponsored by Garofalo. All opinions are my own as usual*
Lasagna Cups With Just 5 Ingredients
All you need to make these Italian lasagna cups are just 5 simple main ingredients:
high-quality lasagna pasta sheets
fresh ricotta
basil leaves
marinara sauce
fresh mozzarella

Ricotta is one of the lightest and healthiest Italian fresh cheeses available.
I literally use it for anything from cheesecakes to savoury tarts. For this lasagna cups, I like to mix it with chopped fresh basil leaves.
I also recommend this herby ricotta, where the cheese is mixed with fresh aromatic herbs and a little lemon zest.
I promise that both versions make a mouth-watering refreshing filling for these delicious lasagna bites!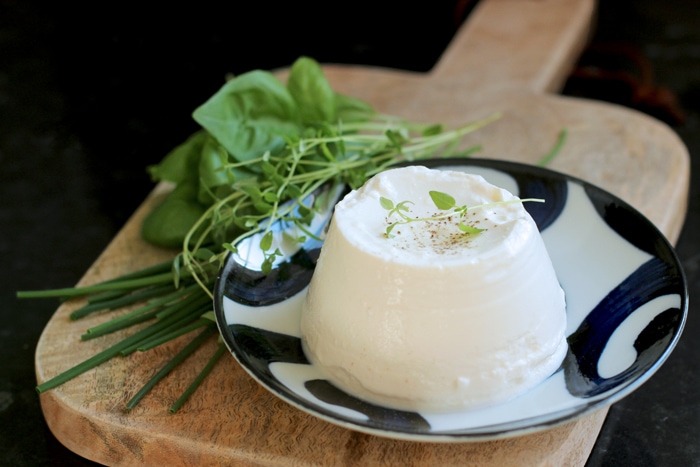 The marinara sauce is perfect to give a refreshing note to these lasagna cups.
You can totally buy a store-bought marinara sauce, but if you have 5 spare minutes, just make your own as it's definitely tastier and cheaper.
I also like to make my own homemade Italian tomato sauce if I have a little more time, and use it instead of the marinara sauce.
The lasagna sheets are super important to make this recipe right. Only buy high-quality Italian pasta.
I use Garofalo lasagne sheets for making these pretty lasagna bites. I've been a fan of Garofalo pasta for a very loooong time!
The pasta keeps al dente even if you keep it in the water a couple of minutes longer, and the texture? Hard to beat.
They only use the best wheat durum semolina flour to make their lasagne, which gives that unique rough texture and taste that makes all the difference.
If you're making a regular lasagna you don't need to pre-cook the pasta sheets.
However, for these lasagna cups, you slightly need to blanch them in boiling water to be able to fit each lasagna sheet in the muffin tray.
Instructions
You won't believe how easy and fun these lasagna cups are. All you have to do is follow these 4 simple steps: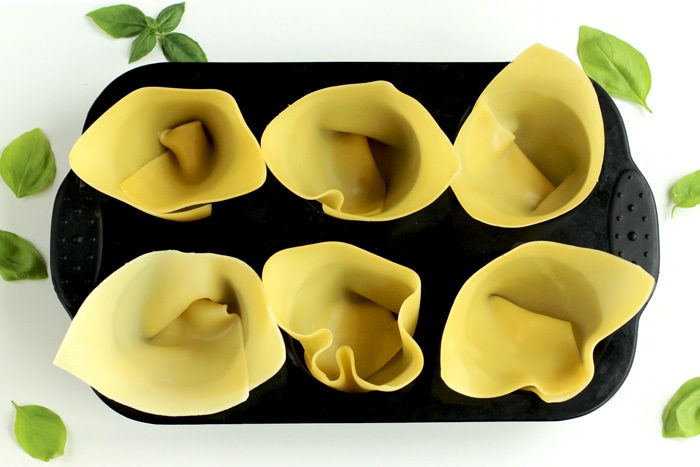 Step 1. Blanch the lasagna sheet in a pot of boiling water, drain and pat dry with a kitchen cloth.
Step 2. Fit each sheet nicely into your muffin moulds. Repeat with the remaining pasta sheets.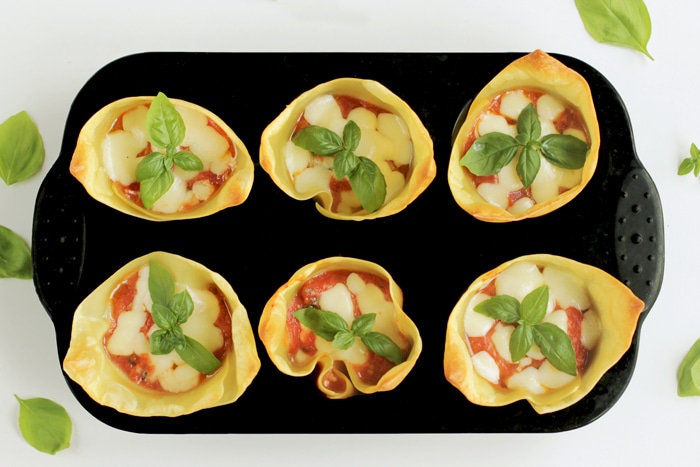 Step 3. Fill each "lasagna cup" with a full tablespoon of ricotta, spoon over a little marinara sauce and top with a spoonful of cubed mozzarella.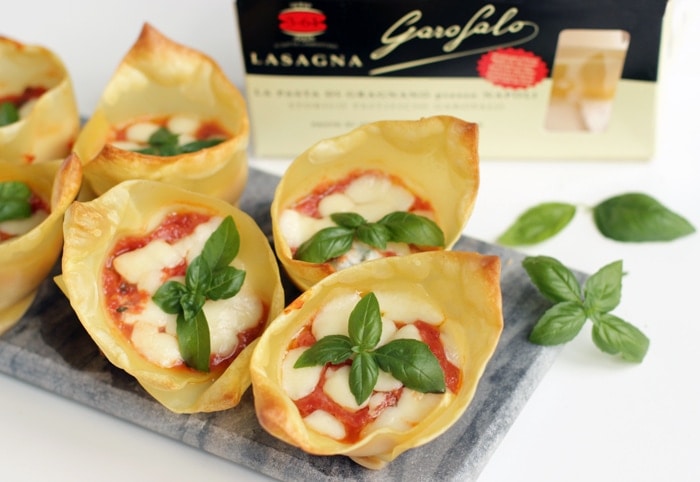 Step 4. Bake your lasagna cups in the oven for 10 mins or until the pasta is cooked through and the edges are nicely crisp.
Allow to cool a little and devour them immediately!
Easy to plan ahead, these vegetarian lasagna cups are a fantastic addition to any barbecue, party, brunch or picnic! They're awesomely vegetarian and easy to customise with your favourite ingredients!
Italian recipes to try:
For more Italian recipes, check out a few of my all-time favourites:
Recipe
Easy Italian Lasagna Cups
A fun version of one of the most famous Italian recipes - These easy vegetarian Italian lasagna cups are ready in less than 30 minutes and perfect for a party!
Ingredients
6

lasagna sheets

150

g

marinara sauce

150

g

fresh ricotta cheese

,

well drained

a bunch of fresh basil leaves

1

mozzarella ball

,

well drained and finely cubed

Extra-virgin olive oil

salt & pepper
Instructions
Pre-heat oven to 375F/180C. Lightly oil a 6-cup standard muffin tin or coat with nonstick spray.

In a large pot of boiling water, blanch each lasagna sheet for 2-3 min until slightly softened. Repeat with the remaining lasagna sheets.

Fit each lasagna sheet carefully into the cupcake mould, making sure not to break it.

In a small bowl, mix together the ricotta with the basil leaves, and season with salt and pepper to taste. Transfer the ricotta into a piping bag or use a spoon. Fill each lasagna cup with 1 tablespoon of the ricotta filling.

Add 1-2 tablespoon of marinara sauce in each lasagna cup to cover the ricotta mixture.

Top each lasagna cup with a small amount of cubed mozzarella.

Drizzle with a little olive oil and season with black pepper to taste.

Bake the lasagna cups for 10-12 minutes, or until the cheese has melted and the lasagna cups are cooked through and crispy golden brown.

Serve immediately, garnished with basil leaves.
Notes
Use a 6-cup muffin pan, alternatively for a mini version use a 12-cup muffin pan and cut each lasagna sheet in half.
The information shown is an estimate provided by an online nutrition calculator. It should not be considered a substitute for a professional nutritionist's advice.
This post was originally published in August 2015 and updated with more info and improved recipe.