These easy Italian-inspired Pistachio Lamb Meatballs take less than 30 minutes to make and are guaranteed to wow your guests!
These easy pistachio lamb meatballs have quickly become a family favourite!
The meatballs come out juicy and tender every single time, they're perfect for both weeknight meals and dinner parties.
They truly have it all. They're meaty, tender, with added crunch and sweetness thanks to the pistachio nuts, and loaded with flavour thanks to the lamb meat and some extra parmesan cheese into the mix. I mean, what's not to love?
Lamb is an incredibly tasty and versatile ingredient, and really nutritious too.
It can be used for WAY more than just lamb roast, and it's a great ingredient that makes a fantastic option for both weeknight meals and special occasion equally.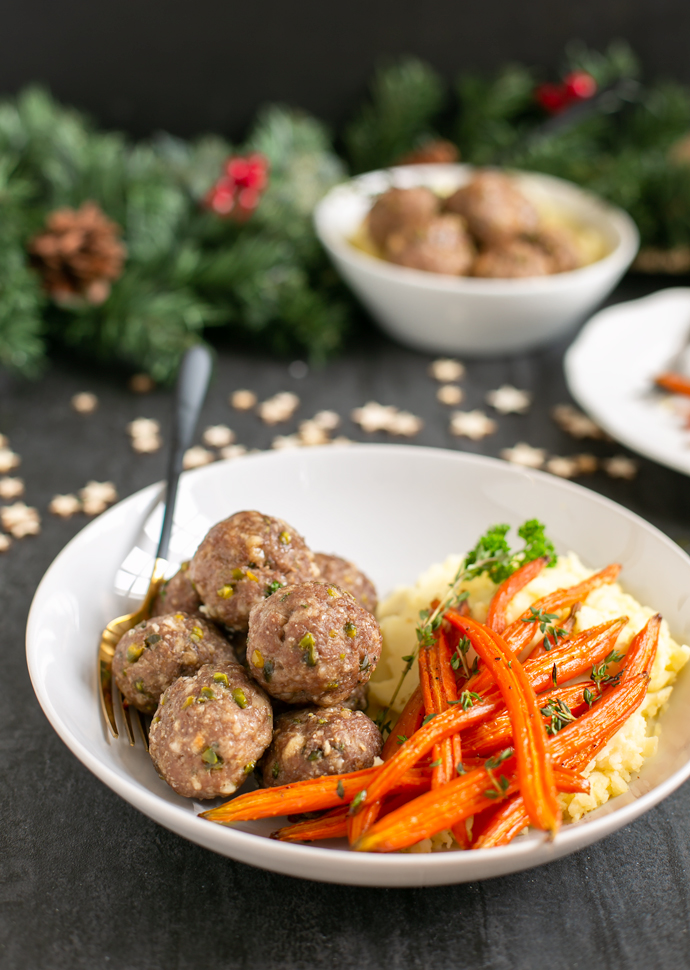 If you're planning your Christmas menu, I'd totally encourage you to swap turkey or chicken in favour of lamb.
This year, I'm planning a fuss-free Christmas, and these pistachio lamb meatballs are definitely going on my menu. They're super quick, smell and taste absolutely delicious, and sure to get rave reviews!
I like to pair them with my super easy 3-ingredient mashed potatoes, and simple roasted maple-glazed carrots. However, if you fancy some other sides, I'll leave some other options at the end of the post.
Only 8 Simple Ingredients!
This simple recipe for awesome lamb meatballs requires just 30 minutes to make and 8 simple ingredients:
Minced lamb
Parmesan cheese
Parsley
Thyme
Pistachio
Artisanal Ciabatta Bread
Milk
Panko breadcrumbs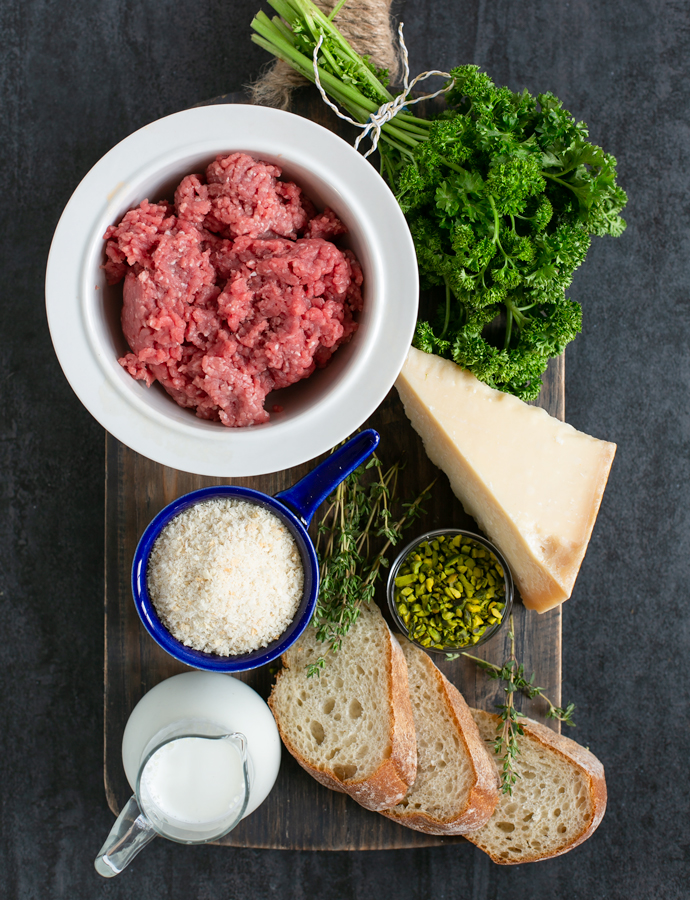 Minced Lamb Meat
You can use any ground lamb meat you like.
My personal favourite is minced lamb meat made from the shoulder, which has a little marbling that makes the meatballs extra juicy and tender. I picked the shoulder meat at my local butcher and asked him to ground it for me.
You don't want to use super lean minced lamb, as this will result in tougher, dry meatballs, and none likes them, am I right?!
Bread, Milk, Parmesan and Panko breadcrumbs
The trick to making sure meatballs are fork-tender once they're cooked is to use a good binder mixture.
Here, I've soaked bread slices in milk, then crumbled into the mixture with my hands. I've also added some panko breadcrumbs to help bind the mixture, and for extra flavour, a little bit of Parmesan.
They're basically the same ingredients you would add to classic Italian meatballs, except, I've skipped the egg this time, as I don't think is really necessary here, as the ingredients above are enough to keep the mixture well together.
If you have a hard time finding panko (Japanese breadcrumbs), you can use grated stale bread.
Fresh Herbs
I really love the combination of parsley and thyme leaves here. However, both sage and rosemary would work well too.
How To Make Lamb Meatballs
This is probably one of the easiest recipes you can make, as it's really fuss-free and requires minimum cooking skills.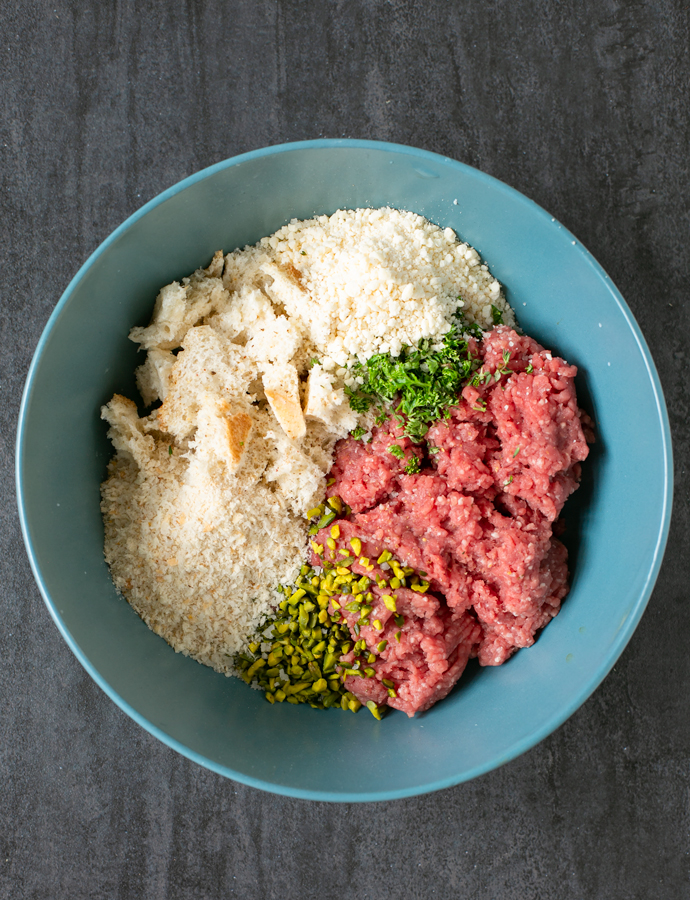 Start by mixing all the ingredients in a large bowl.
Mix with your hands until all the ingredients are combined. Another trick to tender meatballs is not overworking the meat — mix until the ingredients just until they're combined.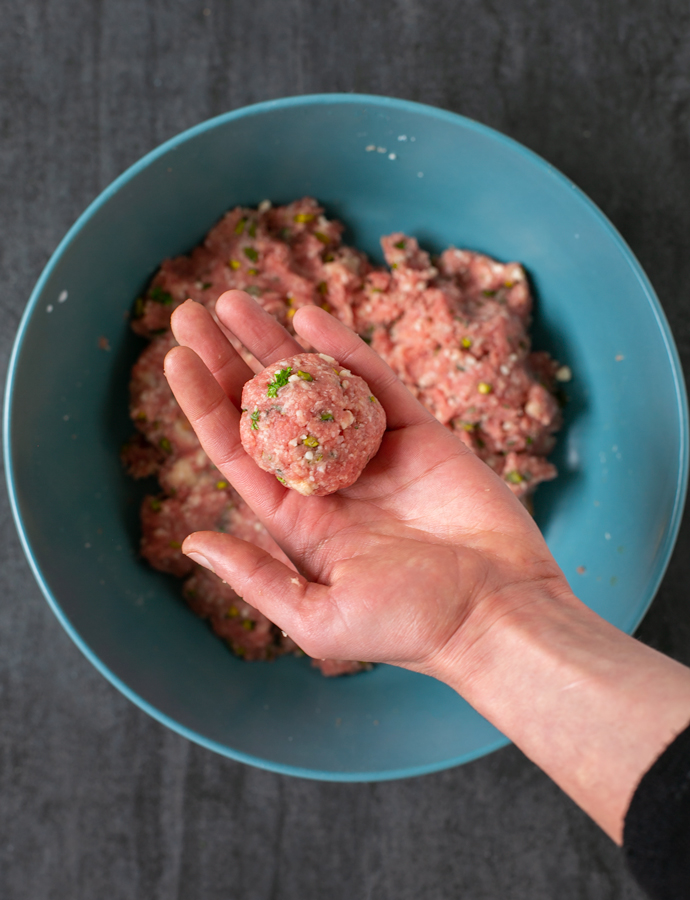 Use your hands to form golf-sized balls, and arrange them on a baking tray brushed with olive oil (or you can cover the tray with parchment paper).
Bake in the oven for about 15-20 minutes, until they're nicely brown and seared on all sides, and no longer pink on the inside.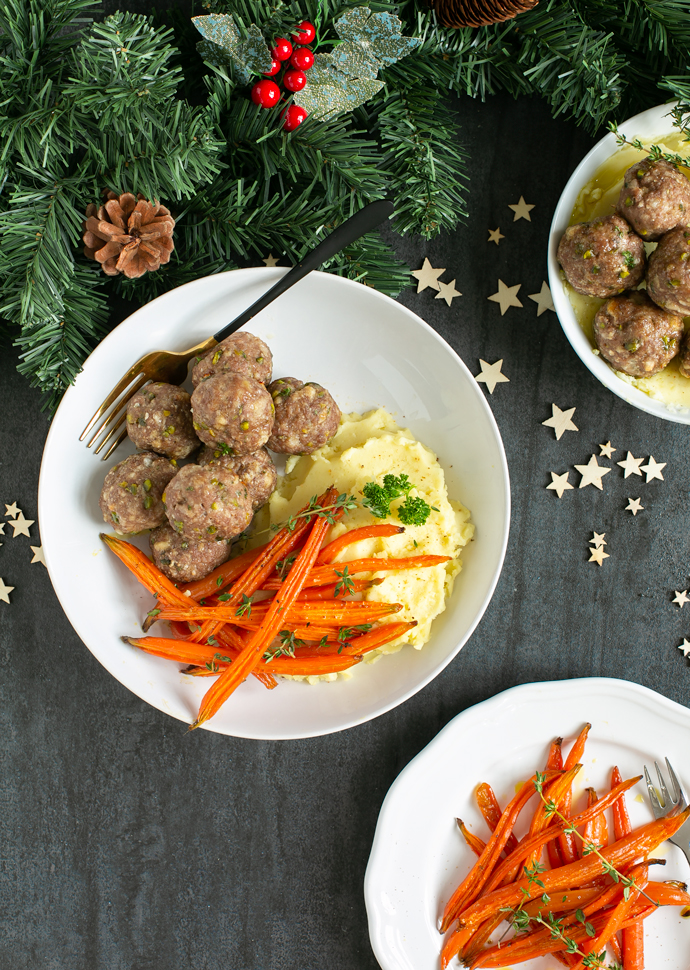 Serve them straight away, and store leftovers (if you have any!) in an air-tight container for up to 2 days.
Roasted meatballs VS Pan-fried Meatballs
Let's talk about how to cook the meatballs! You have two options: roasting them or pan-frying them.
Roasting:
Roasting meatballs is the best option if you're planning on serving them for a big crowd (hello Christmas dinner!), or you'd like to freeze some of them for later.
The roasting method also guarantees even cooking to your whole batch, and a perfectly seared outside. Plus, you can get ready your sides whilst they cook peacefully in the oven.
Pan-frying:
Cooking your meatballs in the pan is a great option if you're making a small batch and don't want to turn your oven on.
This method gives you a nicely searing to the meatballs, and shorter time of cooking compared to the oven version, but you do need to actively watch them and turn them every now and then.
What To Serve Lamb Meatballs With?
There are so many sides that go well with this dish! I love serving mine with simple mashed potatoes and maple-glazed carrots, however, here are some other favourite sides: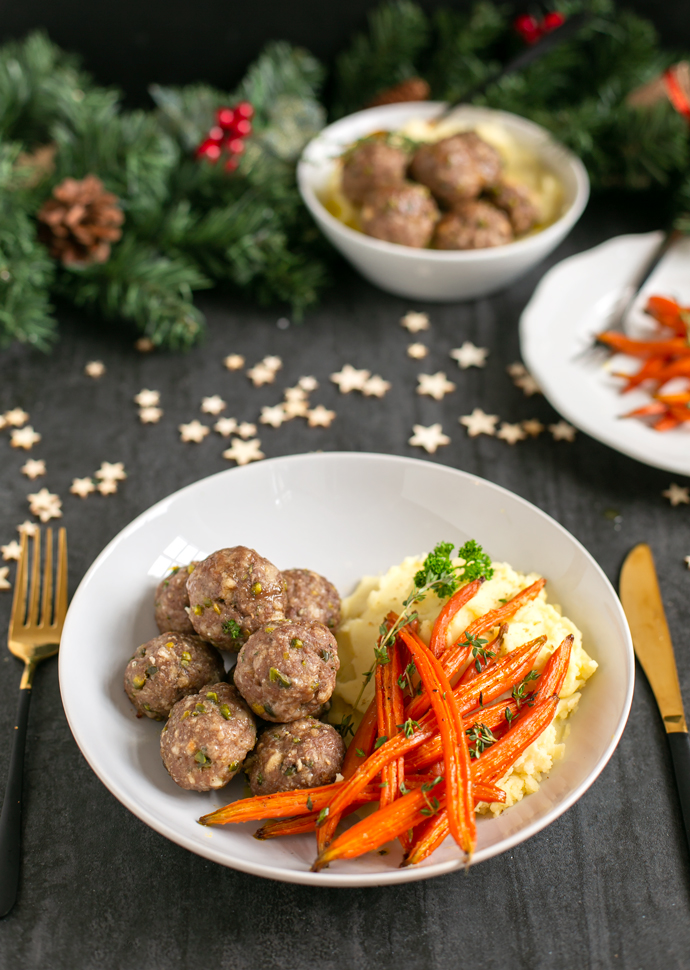 DID YOU MAKE THIS RECIPE?
Please let me know how you liked it! Leave a comment below and share a picture on Instagram with the hashtag #thepetitecook. Looking at your pictures always makes me smile *and super hungry*!
Recipe
Pistachio Lamb Meatballs
These easy Italian-inspired Pistachio Lamb Meatballs take less than 30 minutes to make and are guaranteed to wow your guests!
Ingredients
2

thick slices of rustic ciabatta bread

100

ml

milk

120

g

panko breadcrumbs

2

tablespoon

Parmesan cheese

,

grated

1

tablespoon

fresh parsley

,

finely minced

80

g

pistachios

,

finely chopped

1

teaspoon

fresh thyme leaves

300

g

minced lamb

Sea salt and freshly-cracked black pepper

2

tablespoon

extra-virgin olive oil
To Serve:
Glazed carrots

,

see notes
Instructions
Preheat oven to 180°C, and arrange the baking tray onto the middle shelf.

Cut the bread into small cubes and place them into a bowl with the milk. Allow the bread to sit for a few minutes then drain it and squeeze the milk in excess with your hands and place it in a large bowl.

Add in the panko breadcrumbs, Parmesan cheese, parsley, pistachios and thyme, and combine all the ingredients together.

Add in the minced lamb, season generously with salt and pepper, and mix gently, but thoroughly, with your hands to combine all the ingredients.

Take off a small piece of the meat mixture and gently roll between your hands to form 1-inch meatballs (about 1 full tablespoon each).

Cover a baking tray with parchment paper, and brush with extra-virgin olive oil. Place the prepared meatballs on top, and gently roll them onto the olive oil to lightly coat them. Arrange the meatballs onto the baking tray, making sure there's enough space between each other.

Bake in the oven for about 15 minutes, until they're nicely browned and cooked through.

Remove from the oven, place on a large serving dish and serve with glazed carrots and mashed potatoes on the side.
Notes
How to pan-fry the meatballs: Heat the extra-virgin olive oil in a large frying pan over medium heat. Fold in the meatballs and leave them undisturbed until they are brown on one side. Shake the pan to loosen the meatballs and then turn each one with tongs to cook on the other side for a further 3-4 minutes.
Remove the meatballs from the heat and arrange them on a plate covered with kitchen paper to absorb the oil in excess. Transfer the meatballs onto a large serving plate and serve. For the glazed carrots: Preheat oven to 180C. Wash and pat dry 300 gr of small carrots, cut them in half lengthwise, and place them in a large shallow baking dish. In a small bowl mix 1 tablespoon of maple syrup with 2 tablespoon of extra-virgin olive and season with sea salt and black pepper to taste. Drizzle the dressing all over the carrots and sprinkle them with a handful of thyme leaves. Bake in the oven for 20 minutes, until the carrots are cooked through but still have a little crunchiness. Remove from the oven and serve with your meatballs.
Nutrition
Calories:
697
kcal
|
Carbohydrates:
89
g
|
Protein:
28
g
|
Fat:
26
g
|
Saturated Fat:
8
g
|
Cholesterol:
39
mg
|
Sodium:
945
mg
|
Potassium:
309
mg
|
Fiber:
4
g
|
Sugar:
3
g
|
Vitamin A:
165
IU
|
Vitamin C:
2
mg
|
Calcium:
97
mg
|
Iron:
2
mg
The information shown is an estimate provided by an online nutrition calculator. It should not be considered a substitute for a professional nutritionist's advice.