This vegetarian quinoa stuffed bell peppers recipe is perfect for a weeknight meal. Ridiculously easy to make, gluten-free and packed with flavour!
---
Growing up stuffed bell peppers were a huge hit at home. My mum used to make them all the time and fill them up with various ingredients such as minced beef ( in the style of a tomato-free bolognese sauce) or fish.
Thinking about her delicious *and rather rich* version, I've decided to give a healthy twist to the classic recipe and use superfood quinoa instead.
Ready in just 30 min, once you try these cheesy quinoa stuffed bell peppers there's no coming back.
You'll want to make them over and over again!
Quinoa is the star of these stuffed bell peppers. One of the most popular superfoods around, this amazing seed has hard-to-beat nutritional properties:
It's of the most protein-rich foods you can eat.
It's packed with fiber, which help us digest.
it's a great source of manganese, a powerful antioxidant.
It's high on magnesium and iron, both fundamental for our bodies.
To make these gluten-free stuffed bell peppers, I've used a mix of black, white and red quinoa, but you can, of course, use any kind you like.
If quinoa is not your thing, simply substitute with your favorite grain.
I've made this recipe before using basmati rice, bulgur, and this delicious couscous salad, and they were all incredibly good!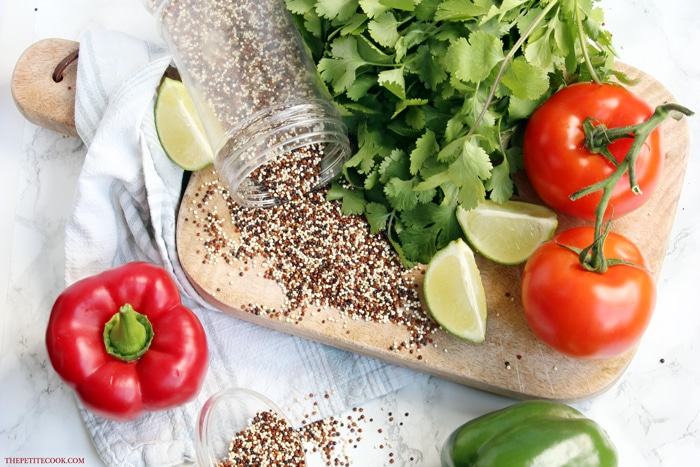 Besides the quinoa, all it's required for this recipe is 7 simple and wholesome ingredients including bell peppers, tomatoes, cilantro, feta cheese (or mozzarella/goat cheese/smoked cheddar), spring onion and lime.
Making these stuffed bell peppers is fun, easy and super quick.
Start by cutting the top of each pepper and scoop out the seeds, or halve them vertically if you prefer.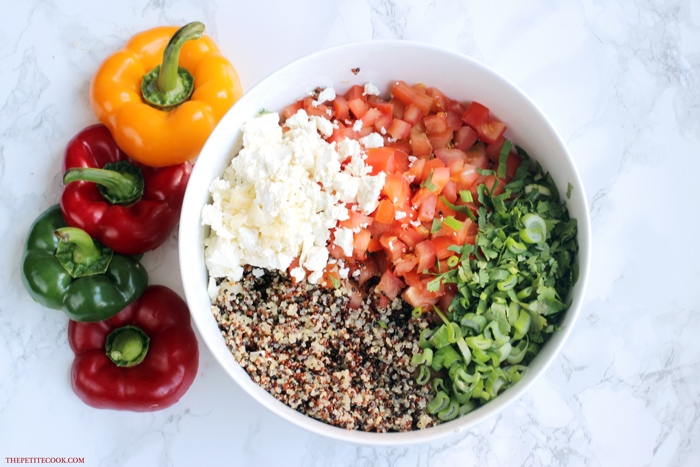 Mix the cooked quinoa with the remaining ingredients and fill each bell pepper all the way to the top.
No worries if you have some leftover quinoa filling, make the best of it, and use it to make these yummy muffins or fishcakes.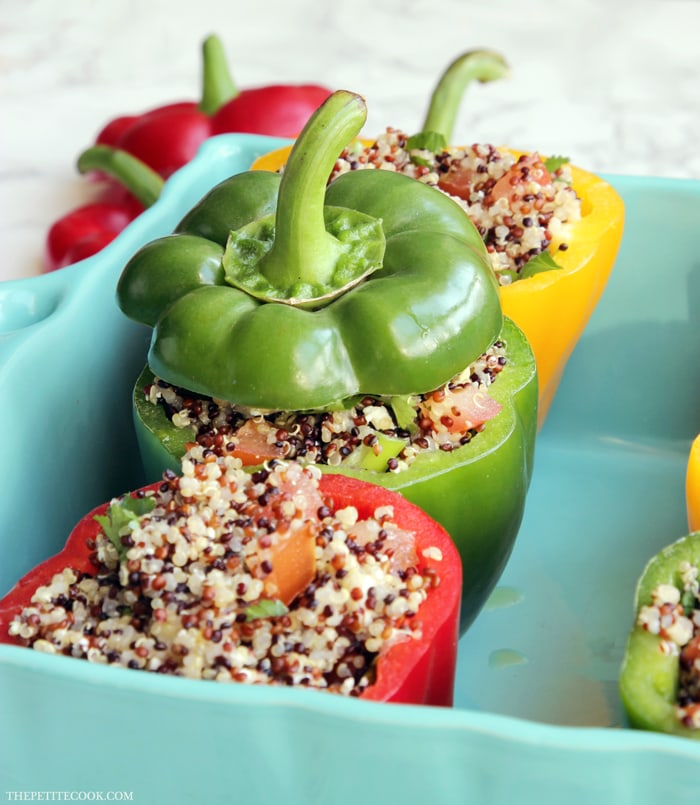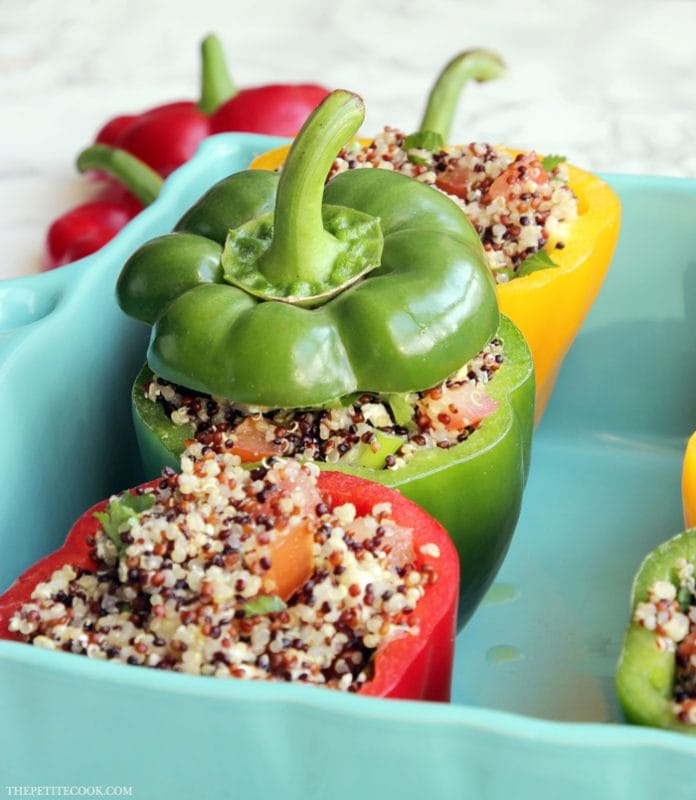 Sprinkle with crumbled feta or mozzarella cheese and bake for about 15 mins, until peppers are soft and cooked through.
Bell peppers are usually ready to eat when the skin gets crispy and easy to peel away.
Remove from the oven and serve straight away.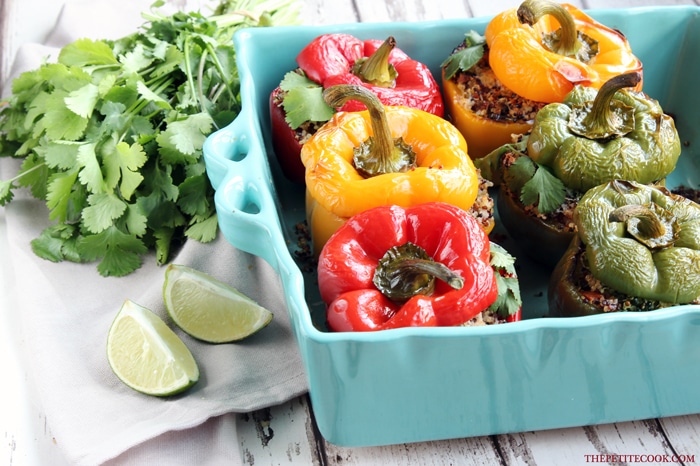 I enjoyed these hearty stuffed peppers just as simple as they are with extra lime wedges on the side.
But for even more flavour, you can serve them alongside a tasty sauce. I usually go for a simple marinara sauce or pesto and they're absolutely impossible to resist.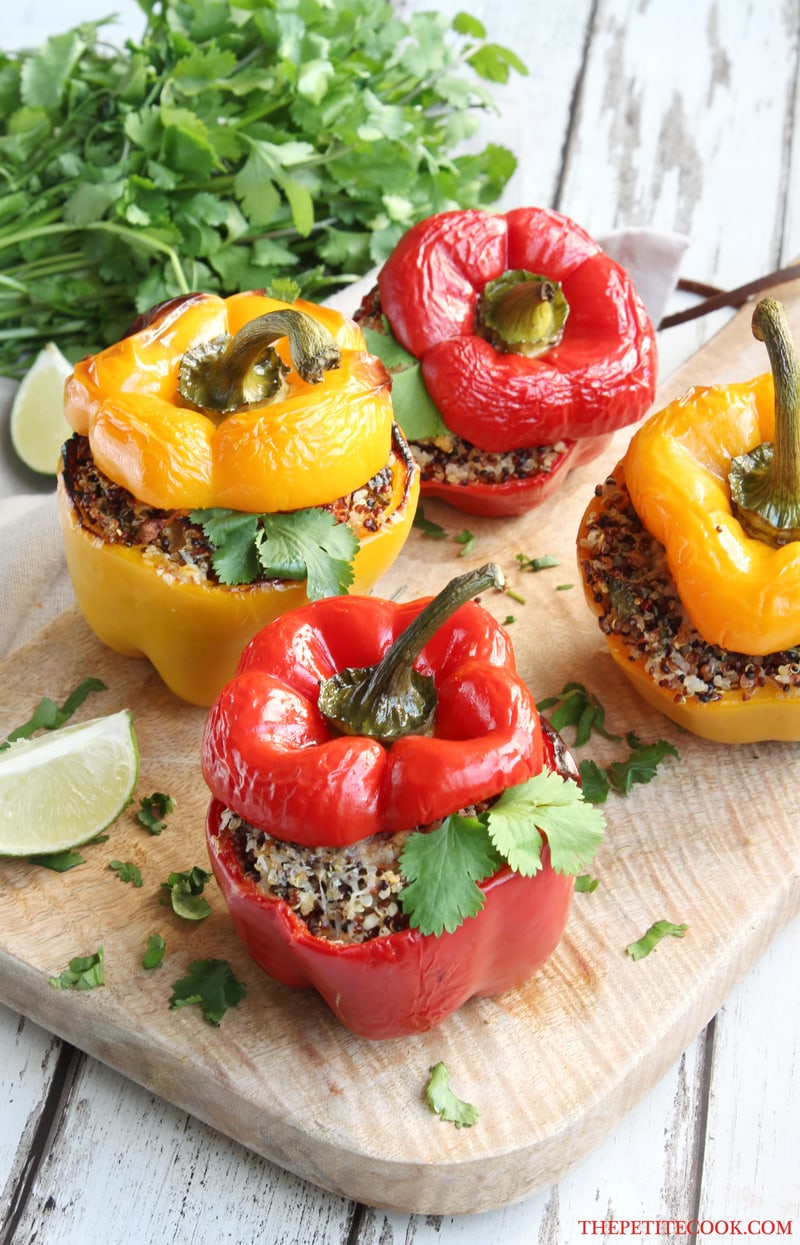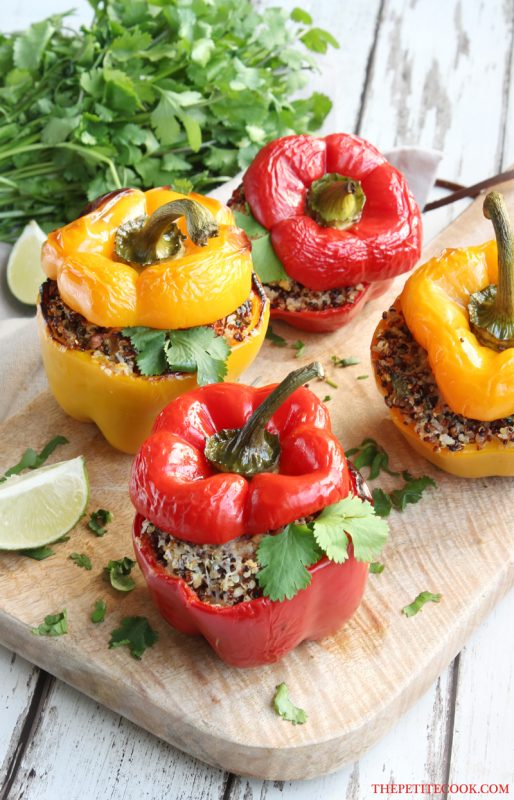 I really hope you give these quinoa stuffed bell peppers a try. If you do, make sure to comment here below or on my facebook/twitter, and don't forget to let me know your favorite veggie fillings!
Quinoa Stuffed Bell Peppers
This vegetarian quinoa stuffed bell peppers recipe is perfect for a weeknight meal. Ridiculously easy to make, gluten-free and packed with awesome Mediterranean flavors!
Ingredients
200

g

mixed quinoa

450

ml

water

4

bell peppers

,

red, yellow, green, orange

200

g

feta cheese

,

crumbled ( or use parmesan, cheddar, mozzarella or goat cheese)

2

salad tomatoes

,

seeded and finely cubed

handful of fresh cilantro

,

finely chopped

3

spring onions

,

finely chopped

juice & zest of 1 lime

1

tablespoon

extra-virgin olive oil

sea salt & black pepper
Instructions
Preheat the oven to 200°C/180°C fan/gas 6.

In a pot of cold water, add in the quinoa and bring to a boil.

Reduce the heat and simmer for about 15 mins, until quinoa has absorbed the water and is cooked through. Drain and transfer into a large bowl.

Use a small knife to cut the top out of the bell peppers, then scoop out the seeds and arrange on a baking dish.

Mix the quinoa with chopped tomatoes, ¾ of the cheese, cilantro, spring onion and lime zest & juice. Season with salt and pepper to taste and a glug of olive oil.

Fill each pepper wit the quinoa mix all the way to the top.

Sprinkle the top with remaining cheese and bake for about 15-20 mins, or until peppers are tender and cooked trough.

Remove from the oven and serve straight away.
The information shown is an estimate provided by an online nutrition calculator. It should not be considered a substitute for a professional nutritionist's advice.