Making Thai Red Fish Curry at home is not complicated as you may think. It's actually ridiculously easy to put together. Ready in just 30 mins, and guaranteed to impress everyone around your dinner table!
---
The secret for a GREAT Red Thai fish curry is, of course, a really good-quality red curry paste, and the best fish you can find out there.
If you live in a big city like London, you know how difficult it is to source high-quality fresh fish and seafood, and when you do find it, prices can be pretty high, and by high I mean really really high.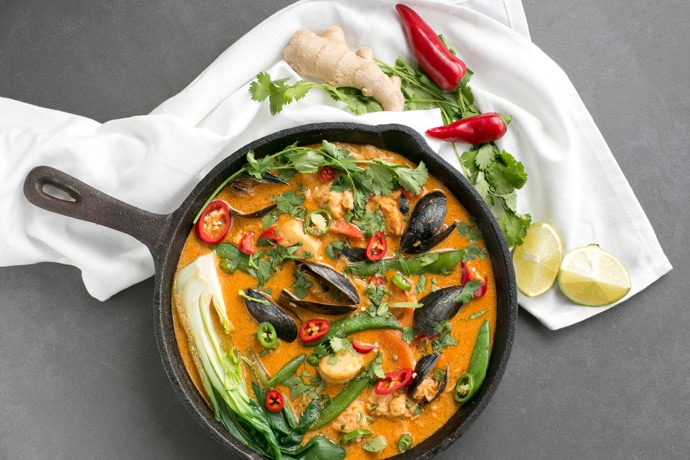 That's why I immediately jumped on board when The Cornish Fishmonger asked me to collaborate on this Thai Red Fish Curry recipe. There's everything to love about them!
This award-winning company ethically sources the freshest possible fish from the daily fish markets on the Cornish bay area, making sure you get the best, the most seasonal and sustainable products. The fish is then fully prepared to your own requirements and delivered to your door within 24h, carefully packed to keep all its freshness.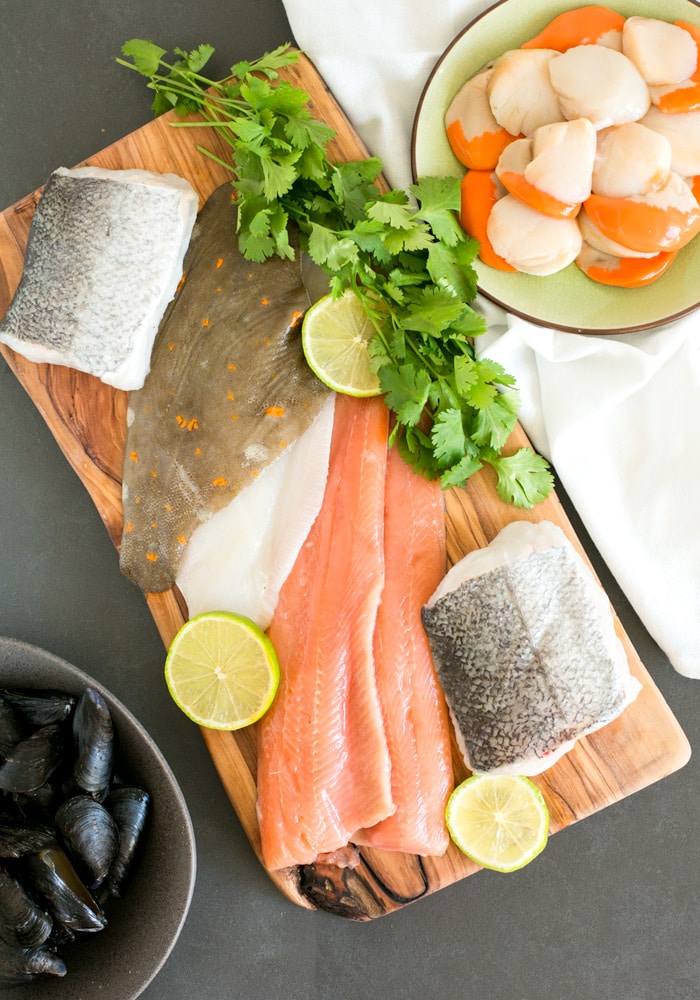 I picked the Cornish Seafood Selection box, which included all sorts of seafood goodness: fresh scallops, mussels, hake fillets, trout fillets and plaice fillets. The amount of fish&seafood you receive in your box is usually enough to feed a family of four.
For this Thai Red Fish Curry, I used a mix of mussels, scallops, trout and hake fillets, together with some Thai curry staples such as red curry paste, coconut milk, lemongrass, coriander, lime and fresh mixed veggies.
For the curry paste, you can of course make your own, as I often do. If you're in a hurry, just buy a good quality Thai red curry paste from your local Asian store, or from the international aisle of a big supermarket.
Once you have all your ingredients at hand, this Thai Red Fish Curry comes together very easily and all in one pot – you may go the traditional route and use a wok, or opt for a cast iron skillet.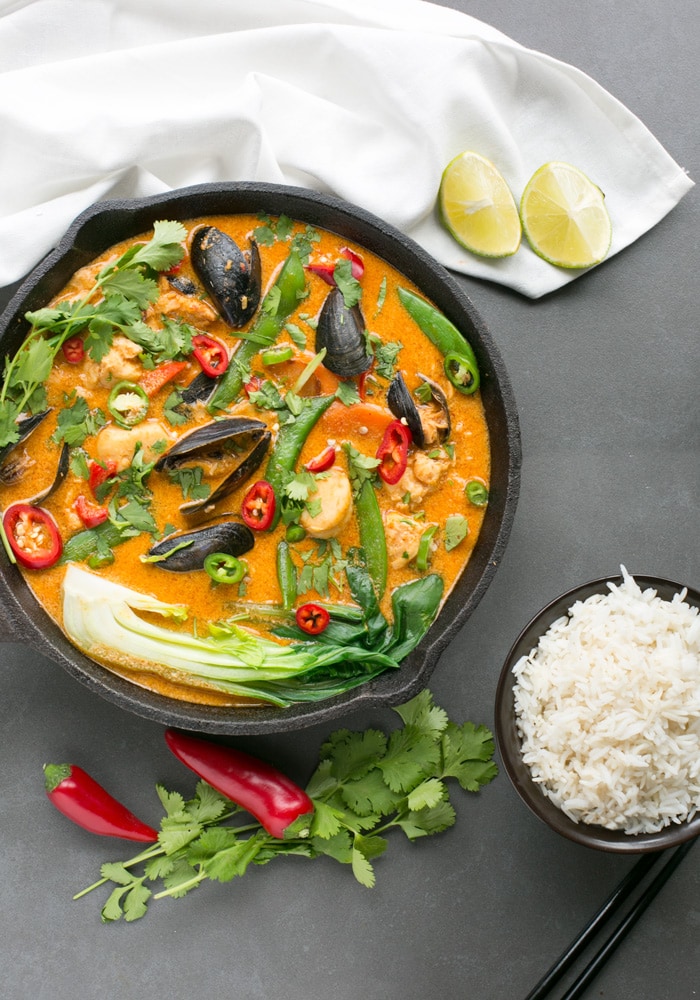 In less than 30 min you'll have a vibrant, awesomely spicy meal that's light, loaded with veggies and good fish protein. Plus it's conveniently dairy-free and gluten-free – What's not to love?
Served with Jasmine rice on the side, this Thai Red Fish Curry makes a nourishing balanced meal, perfect for weeknights and weekends alike!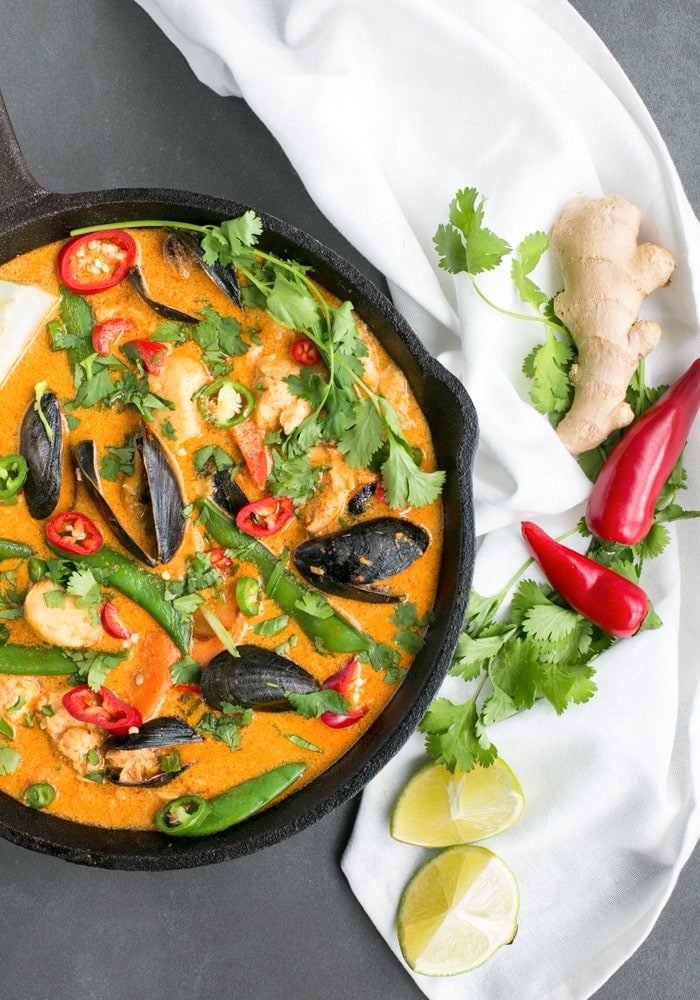 If you love Thai cuisine as much as I do, you may like to check these other  vibrant Thai-inspired recipes on my Blog:
Thai Red Fish Curry
This vibrant spicy Thai Red Fish Curry is ready in less than 30 min and makes a fantastic light option for a quick balanced meal. Plus it's also dairy-free and gluten-free!
Ingredients
2 tbsp olive oil
1 garlic clove, minced
½ tsp fresh ginger, minced
1 small chilli pepper
½ white onion
½ red bell pepper
1 medium carrot
1 small pak choi, halved
60gr fresh snow peas
2-1/2 tbsp Thai red curry paste
1 tbsp brown sugar
200gr fresh hake fillet
1 medium trout fillet
5 fresh scallops
100gr fresh mussels, cleaned
1 can coconut milk
1 tbsp fish sauce
½ lemongrass
½ lime
handful fresh coriander, chopped
Jasmine rice, steamed, to serve
Instructions
Finely slice the onion and carrot. Remove seeds and white filaments from the bell pepper and finely slice.
Remove skin from both the hake and trout, cut into chunks and set aside. Also remove the coral from the scallops and set them aside.
Heat a large wok or cast iron skillet with the olive oil over medium heat. Add in the garlic, ginger, whole chilli pepper, onion, bell pepper, carrot, pak choi and snow peas, and stir-fry for 2 minutes.
Add in the Thai red curry paste and sugar and cook for another minute.
Move the vegetables over the sides of the wok, and add into the center the hake and trout fillets, followed by the scallops and mussels, and stir-fry for 1 minute.
Pour in the coconut milk and fish sauce, and add in the lemongrass. Cook for 5 minutes, then remove lemongrass and whole chilli pepper. If it's too thick, add a splash of water, and adjust seasoning to taste.
Remove from the heat, squeeze half lime over the curry, and sprinkle with fresh coriander on top.
Serve immediately with steamed jasmine rice on the side.
DID YOU MAKE THIS RECIPE?
Please let me know how you liked it! Leave a comment below and share a picture on Instagram with the hashtag #thepetitecook! Looking at your pictures always makes me smile *and super hungry*!
**This post is sponsored by The Cornish Fishmonger. I truly recommend this brand and I'm really proud to collaborate with their team. Thank you for supporting the brands that support The Petite Cook!**