This one-pot vegan pumpkin soup is creamy and so full of flavour. Best of all, you get a nice protein kick thanks to the white beans!
Loaded with flavour, this one-pot creamy vegan pumpkin soup is a firm family favourite and healthy comfort food at its best.
It's creamy, rich, loaded with good-for-you ingredients and not boring at all.
The added topping of crispy shiitake mushrooms, crunchy cubes of sourdough bread and pumpkin seeds, really bring it to the next level!
What I love the most about it, is the added cannellini beans, which are sneakily blended in and hidden in the creamy soup.
You get a nice protein kick out of it and none will never know - great for the picky eaters in the family!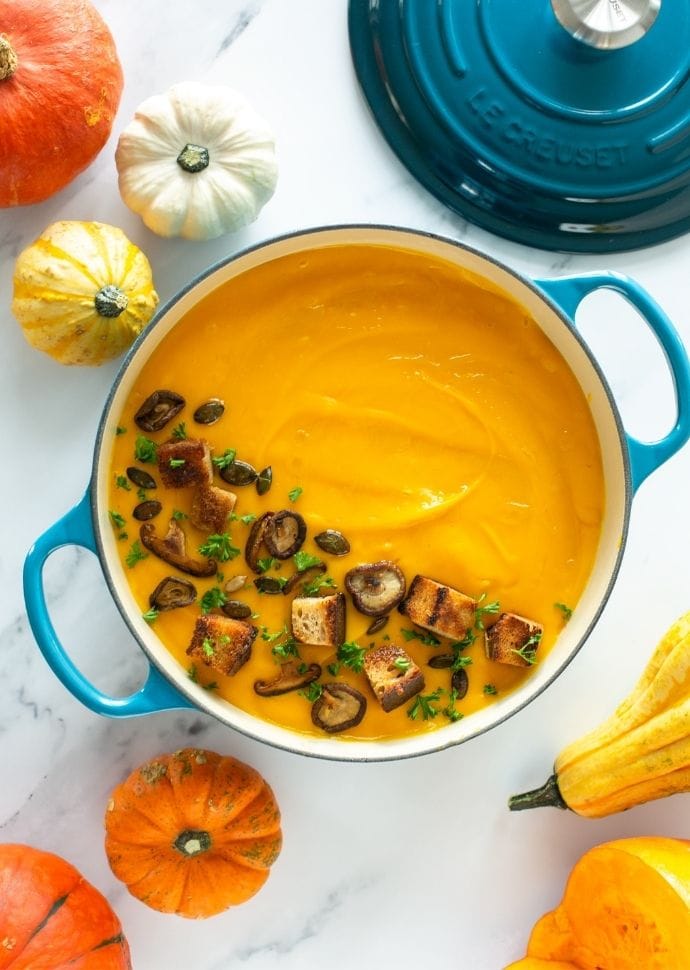 I'm sure you'll FALL in love with soup as much as I did. It's quick, easy to make, LOADED with flavour, and calls for just 7 ingredients.
I mean, what's not to love? Keep reading to find out how easy and delicious this cosy fall soup really is.
INGREDIENTS
All you need to make this comforting veg soup is 7 ingredients. Yes, so easy!!
Here are a few ingredient tips to help you make the best out of this simple nourishing dish:
PUMPKIN
Pumpkin prep is not as difficult as it seems. I like to use a vegetable peeler to peel off the skin, and using a sharp knife, cut it into chunks.
Don't throw away those pumpkin seeds! Here's how to roast them for a healthy snack your family will love.
CANNELLINI BEANS
Cannellini beans have a delicate mild flavour, and a buttery texture, making them perfect for this soup.
Alternatively, you can use pinto beans, navy beans or butter beans.
EXTRA-VIRGIN OLIVE OIL
Good olive oil will add so much flavour to this soup. My favourite is Italian, Greek or Spanish organic extra-virgin olive oil, made from single-origin olives.
VEGETABLE BROTH
This soup is just so creamy and rich, you really don't need to add any dairy, coconut milk or cashew cream, a good vegetable stock will be more than enough.
AROMATICS
Ginger: I love adding ginger to my pumpkin soup, but you can definitely omit it if needed.
Onion: white onion, yellow onion, shallots or red onion all work great.
Thyme: you can substitute with rosemary or sage for a more aromatic note.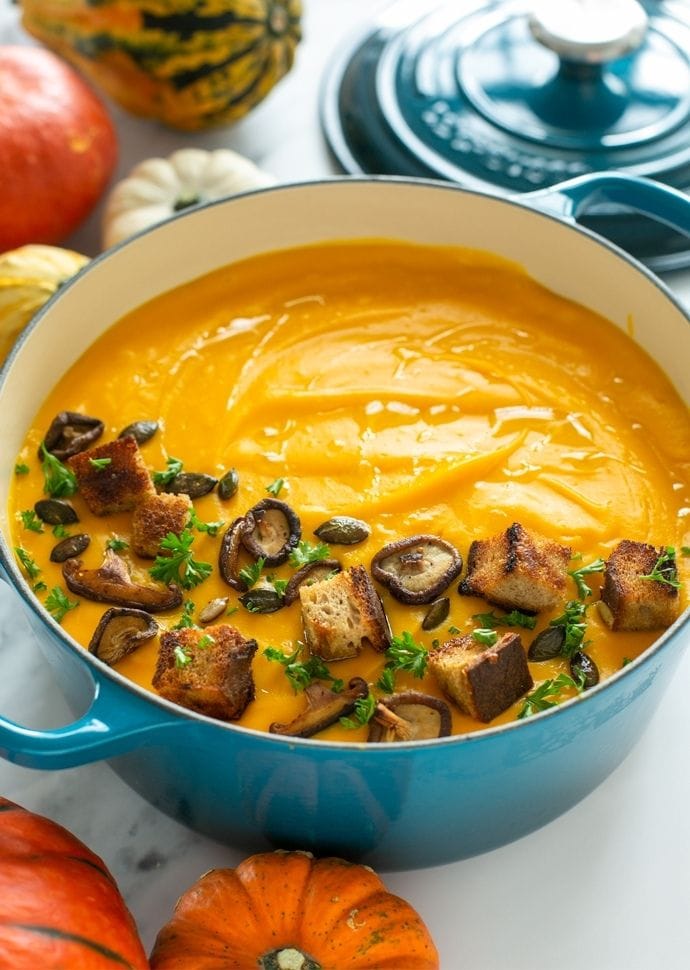 Does pumpkin soup freeze well?
Yes, absolutely! For quick lunch or dinner meal, freeze the soup into individual portions and store it in the freezer for up to 2 months.
How long will it keep in the fridge?
Transfer the soup to an airtight container and store it in the fridge for up to 3 days.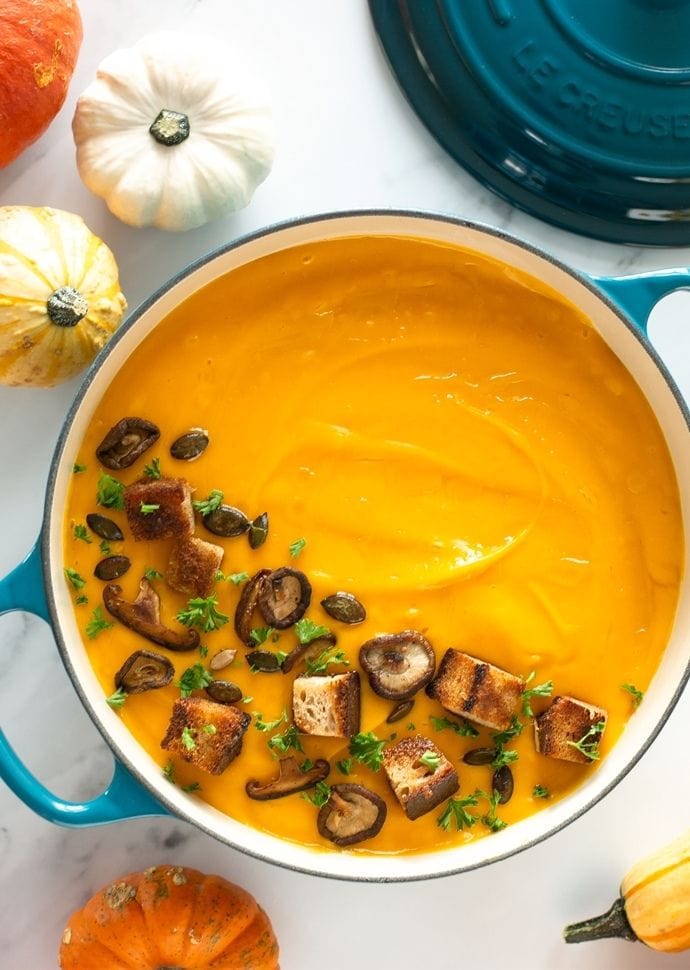 THE VEGAN BEAN COOKBOOK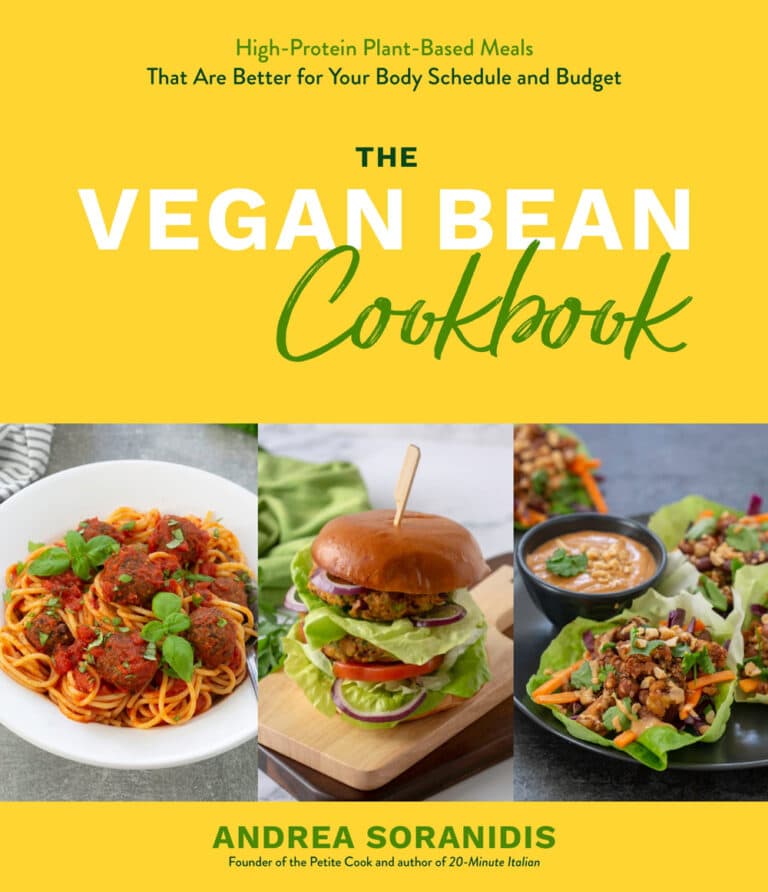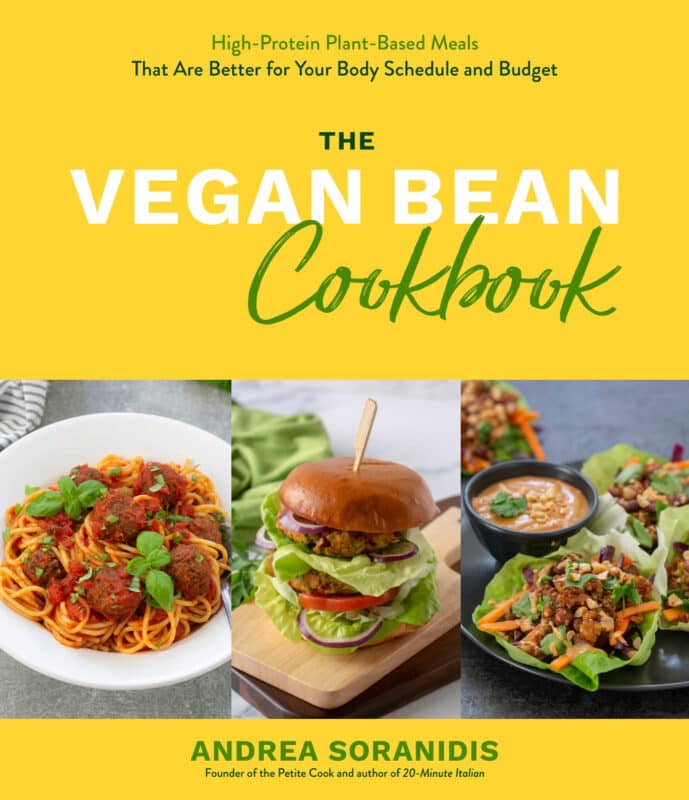 This recipe is also part of the 60+ vegan recipes featured in my new cookbook "The Vegan Bean Cookbook"!
The goal of the book is to show vegan and non-vegan readers that beans are not boring AT ALL!
Beans are conveniently cheap, packed with protein, and incredibly versatile.
There's so much you can do with the humble bean!
From simple and nourishing pasta dishes to fun and incredible desserts, and I will show you all in this new exciting cookbook.
DID YOU MAKE THIS RECIPE?
Please let me know how you liked it! Leave a comment below and share a picture on Instagram with the hashtag #thepetitecook! Looking at your pictures always makes me smile *and super hungry*!
YOU MAY ALSO LIKE: