Loaded with vitamins, nutrients, and naturally dairy-free & gluten-free, this Nectarine & Avocado Smoothie is the quickest way to fuel you up on busy mornings!
---
There's nothing better than a healthy refreshing smoothie to start your day. Smoothies are one of my favorite things in the world. They're super quick to make, loaded with healthy goodness and easy to take with you wherever you want.
For this Nectarine & Avocado Smoothie, all you need is very simple fresh ingredients: seasonal nectarines, mango, avocado, spinach, unsweetened coconut water and Wholesome Organic Stevia®, to lightly sweeten things up.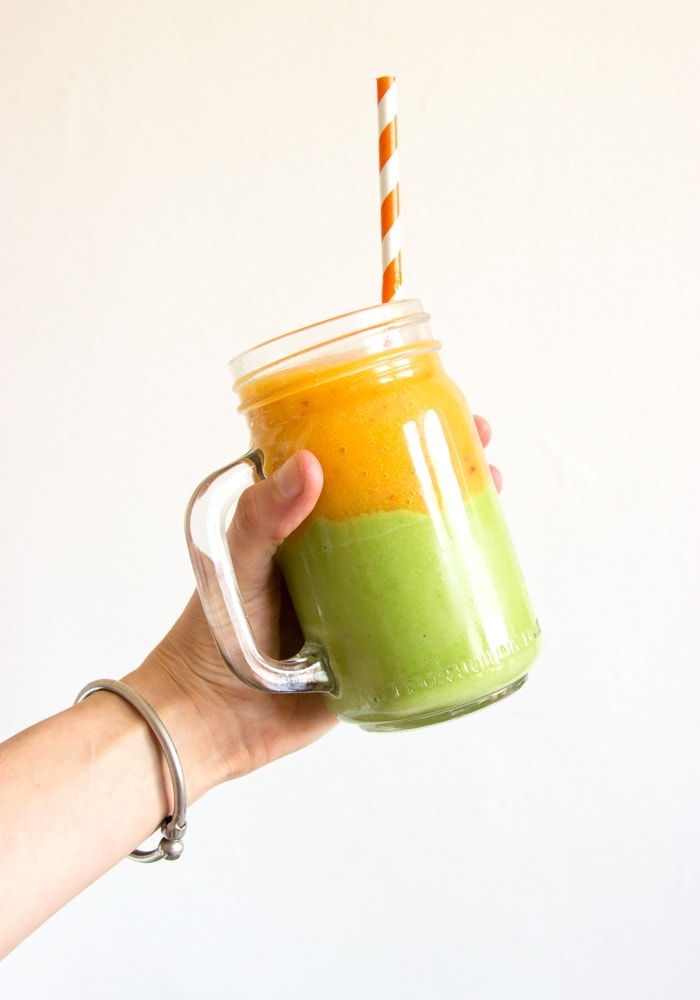 What I love most about this energizing concoction, is that is one of the few smoothies out there that doesn't call for banana, which I adore by the way, but I know some of you don't, so if you're not a banana lover, this drink is perfect for you. Instead of banana, the avocado gives this smoothie its rich, creamy, delightful texture. Avocado is also the only fruit (yes, it's a fruit!) that contains monounsaturated fat, which is the good fat our bodies need to function properly, and can also lower our bad cholesterol.
Additionally, avocados are also a great source of vitamins, magnesium, and potassium, and are full of fiber. All the good reasons to eat and drink more avocado!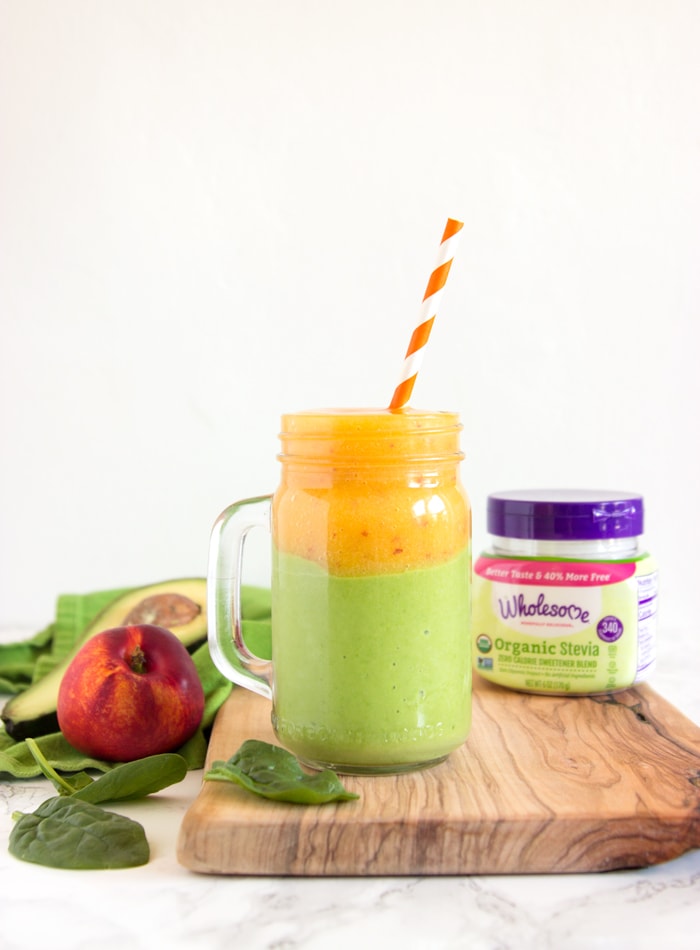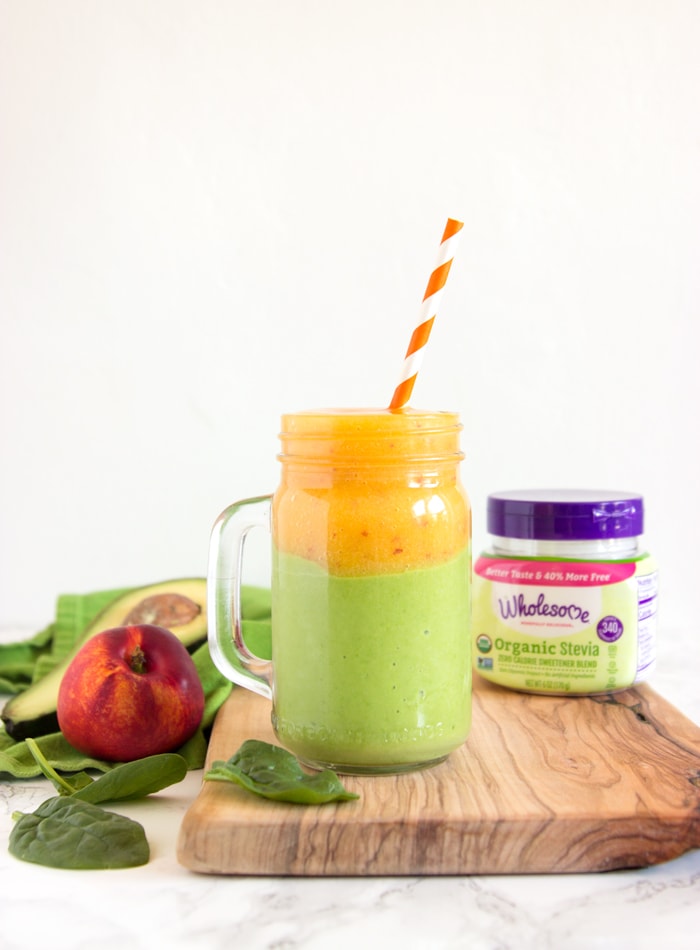 This Nectarine & Avocado Smoothie is also free of refined sugar. Instead, I've used Wholesome Organic Stevia, which is Non-GMO, vegan & kosher. And there are lots of other good reasons to opt for it – unlike most of the commercial chemically derived sweeteners out there, it doesn't contain nasty chemicals and it's 100% organic, it's deliciously sweet but has zero calories (great if you're keeping an eye on your weight!), and can be used to sweeten up anything from coffee, tea, Greek yogurt, and of course, smoothies. Wholesome Organic Stevia is available to buy on the online store, and you can also use this coupon to take 1$ off.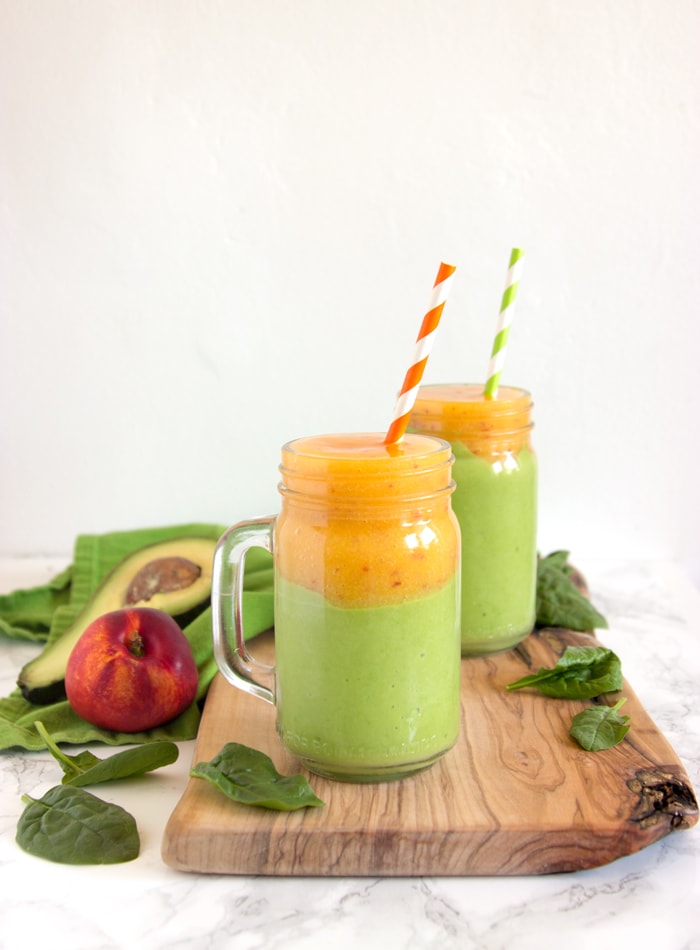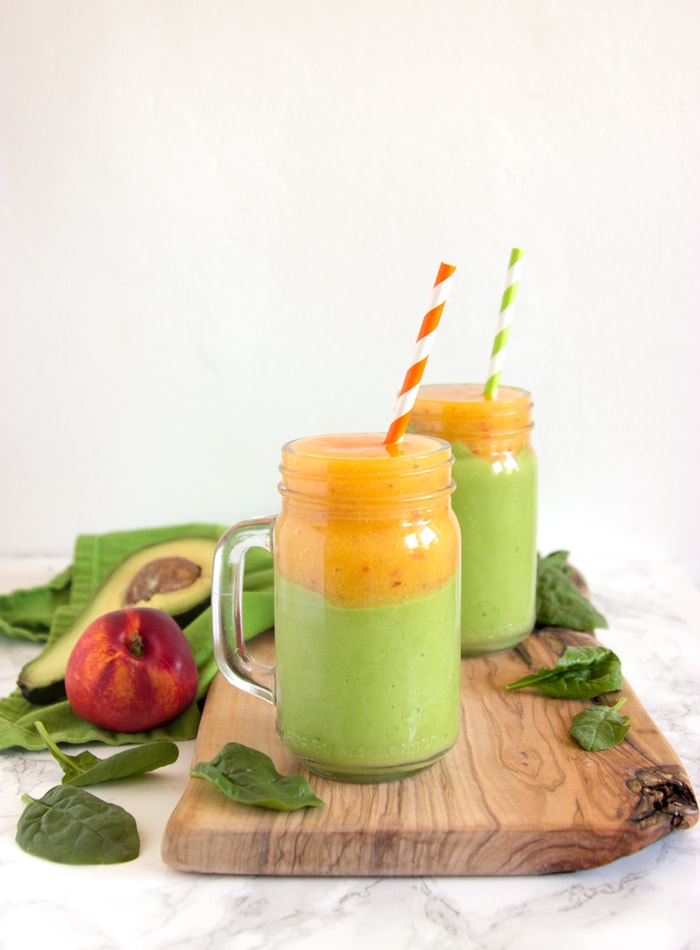 If you're looking for a speedy nutritious breakfast, or a healthy treat to fuel you up in the afternoon, look no further. This Nectarine & Avocado Smoothie is sure to become a favorite – Awesomely sweet, loaded with goodness, it makes the perfect, natural energy drink on the go!
DID YOU MAKE THIS RECIPE?
Please let me know how you liked it! Leave a comment below and share a picture on Instagram with the hashtag #thepetitecook! Looking at your pictures always makes me smile *and super hungry*!

Nectarine & Avocado Smoothie
Ingredients
For the nectarine layer:
3 nectarines, chopped
½ mango, peeled and chopped
150ml unsweetened coconut water
For the avocado layer:
1 large avocado, chopped
a handful of fresh baby spinach leaves
1 tsp Wholesome Organic Stevia
150ml unsweetened coconut water
Instructions
Start with the green layer of the smoothie. In a powerful blender, (such as Vitamix) place chopped avocado, spinach, Wholesome Organic Stevia and coconut water. Blend until smooth and divide between two glasses.
Rinse the blender, and fold in chopped nectarines, mango and coconut water. Blend until smooth and pour over the green smoothie.
Serve immediately.

This is a sponsored conversation written by me on behalf of Wholesome Stevia. The opinions and text are all mine.