These flavour-packed gluten-free Eggplant Roll-ups with Grana Padano and Prosciutto di San Daniele are super easy to make, require minimum cooking and look fancy enough to serve as finger food to any party!
---
If you're looking for a quick and easy appetizer/finger food to serve at the upcoming Christmas and/or New Year's Eve dinners and parties, look no further – These eggplant roll-ups are perfect party material! They make a great light bite-sized appetizer, plus are awesomely gluten-free.
This recipe comes together in less than 30 min and only requires 4 simple amazing ingredients: eggplant (aubergine), fresh rocket leaves, Grana Padano cheese and Prosciutto di San Daniele.
WATCH HOW TO MAKE THESE AWESOME EGGPLANT ROLL-UPS:
I've already told you recently, how much I love using authentic Italian products as much as I can in my cooking, and Grana Padano cheese & Prosciutto di San Daniele are definitely two of my favorites.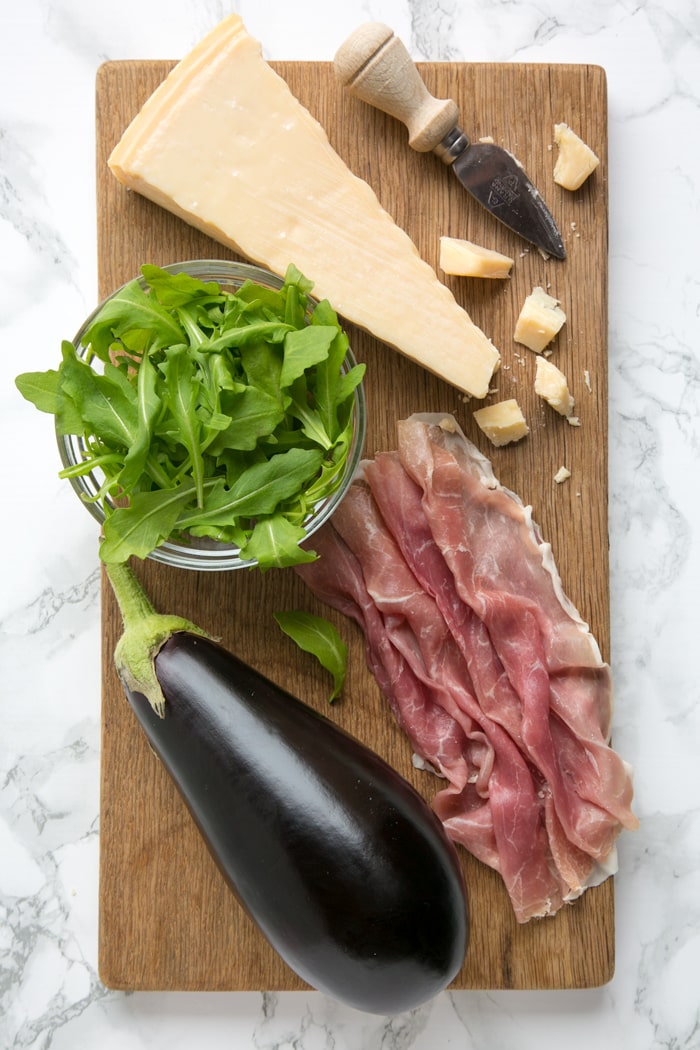 Grana Padano is produced in the Italian Po River Valley since the 12th century, and its recipe and ageing process has remained the same ever since. Its bold but not over-powering taste, allows to be paired with a whole range of different ingredients, including eggplant. Plus, it's loaded with protein, which is a nice bonus!
Prosciutto di San Daniele is not like any other dry-cured ham. It's made solely with pigs born and bred in Italy, and only sea salt is added during the curing process, so it's entirely free of other preservatives or additives.
Prosciutto di San Daniele has a delicious savoury taste with a delicious sweet note at the end. It gives a nice but delicate meaty taste to these light rolls, and pairs amazingly well with the lightly smoky flavour of the eggplant.
Both Grana Padano and Prosciutto di San Daniele have been awarded PDO (Protected Designation of Origin) status since 1996, to ensure the quality of these unique products is maintained – so make sure the packaging shows the PDO mark when you look out for them.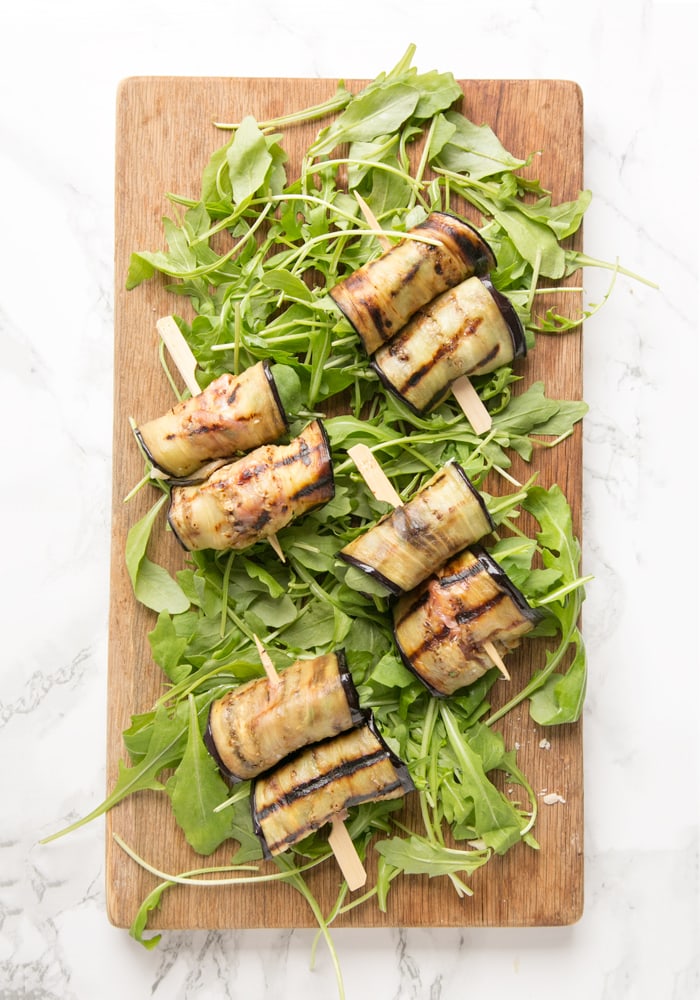 Back to these awesome eggplant roll-ups, I can't stress enough how incredibly easy these are to make. All you have to do is grill some eggplant slices, fill them up with a mix of fresh rocket leaves, Prosciutto di San Daniele and Grana Padano cheese shavings, and roll them all up.
They're so easy that you can even ask your kids to help you out. To make things quicker, you can also grill the eggplant a few hours ahead and assemble your rolls with the filling just before serving.
To make even thinly-sliced eggplant, make yourself a favour and use a mandolin, this way the slicing process will take you no more than 1 minute, and you'll have perfect even-sized slices. I usually prep two medium eggplants so my slices all come out even in size, and I leave the small slices for other recipes (such as these amazeballs eggplant meatballs).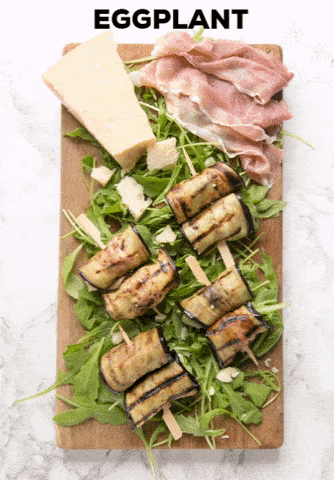 Truly, there's nothing not to like about this recipe. Serve these Eggplant Roll-ups with Grana Padano and Prosciutto di San Daniele as finger food at your next dinner and holiday parties and watch the crowds go wild!
DID YOU MAKE THIS RECIPE?
Please let me know how you liked it! Leave a comment below and share a picture on Instagram with the hashtag #thepetitecook! Looking at your pictures always makes me smile *and super hungry*!
**This post is sponsored by Grana Padano and Prosciutto di San Daniele. I truly recommend these brands and I'm really proud to collaborate with their team. Thank you for supporting the brands that support The Petite Cook!**

Ingredients
2 eggplants (aubergine)
handful of fresh rocket leaves
2-3 slices of Prosciutto di San Daniele
85gr / 3oz Grana Padano cheese, chopped in small chunks
Instructions
Finely slice the eggplants into even-sized slices, either by using a mandolin or with the help of a sharp knife. Set aside all the small slices for another recipe.
Heat a large grilling pan over med-high heat. Brush each eggplant slice with olive oil if you like, then grill over the pan until cooked, about 2 min on each side.
Top each slice with a small amount of rocket, half slice of Prosciutto di San Daniele and 3-4 small chunks of Grana Padano cheese.
Roll each slice, then arrange two rolls together and secure with a bamboo skewer.
Serve straight away or refrigerate for up to 2 hours until ready to serve.